Transport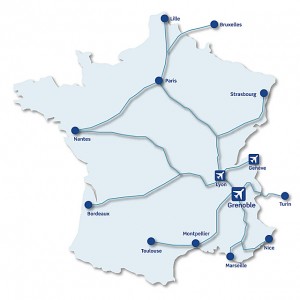 Grenoble is well connected to several international airports. How to reach Grenoble:
Arriving by plane
Three airports, two of which are less than an hour from Grenoble
Lyon-Saint Exupéry is 55 minutes from downtown Grenoble thanks to shuttle busses running every 30 minutes. 5 airline companies, including 6 low cost companies, 100 destinations in 3 continents.
Grenoble-Isère airport is 35 minutes from downtown Grenoble with regular low cost flights.
Geneva International Airport is 1hour 45 minutes from Grenoble
Arriving by train
The train station is ideally located in the city center. You can walk or take the tram to get to the three convention centers.
Less than 3 hours from Paris by the high speed TGV train.
Paris – Grenoble : 10 departures per day.
By train, Grenoble is only 1,15 hour from Lyon, 2.5 hours from Marseille, 6 hours from Nantes, 5 hours from Strasbourg and 6 hours from Brussels.