Welcome
Important, last minute change: due to expected high temperatures, main conference and workshops location have changed to ENSE3 building (places with air conditioning). Check the new locations in this page.
ICAC is the leading conference on autonomic computing techniques, foundations, and applications. Large-scale systems of all types, such as data centers, computer clouds, smart cities, cyber-physical systems, sensor networks, and embedded or pervasive environments, are becoming increasingly complex and burdensome for people to manage. Autonomic computing systems reduce this burden by managing their own behavior in accordance with high-level goals. In autonomic systems, resources and applications are managed to maximize performance and minimize cost, while maintaining predictable and reliable behavior in the face of varying workloads, failures, and malicious threats. Achieving self-management requires and motivates research that spans a wide variety of scientific and engineering disciplines, including distributed systems, artificial intelligence, machine learning, modeling, control theory, optimization, planning, decision theory, user interface design, data management, software engineering, emergent behavior analysis, and bio-inspired computing. ICAC brings together researchers and practitioners from disparate disciplines, application domains and perspectives, enabling them to discover and share underlying commonalities in their approaches to making resources, applications and systems more autonomic.
ICAC'16
The website of ICAC'16 is available : http://icac2016.uni-wuerzburg.de/
Important dates
| | |
| --- | --- |
| Paper Submission | January 29, 2015 |
| Notification of acceptance | April 15, 2015 |
| Final papers due | May 1, 2015 |
| Conference | July 07-10, 2015 |
All deadline times are 23:59 UTC/GMT -12h, Baker Island
Accepted Papers
The list of accepted papers is available here
Awards
Check out the awards distributed during the conference.
Keynotes
ICAC 2015 has feature five keynote talks:
Prof. Jeremy Pitt (Imperial College London): Governance, Justice and Paradox in Self-Organising Rule-Oriented Systems
Prof. Tarek Abdelzaher (University of Illinois): The Social Frontier for Autonomic Systems
Dr. Alexander Keller (IBM): A Service Provider Perspective of the past 12 Years of Autonomic Computing
Dr. Lee Brownston (NASA): From Pixels to Planets
Prof. Christian Müller-Schloer (Leibniz Universität Hannover): The Holonic Agent – a building block for systems of systems
For more information see the keynotes page.
Instructions to authors
Instructions to authors are available on the dedicated page.
Location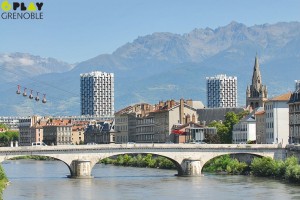 Grenoble's environmental, cultural, historic, scientific, and industrial attractiveness have made it a reference in the world of business tourism. It is also thanks to strong traditions of innovation and exchange. The city hosted nearly 3,500 events in 2012, including approximately 40 conventions.
The greater Grenoble area is located at the heart of four mountain chains —Vercors, Belledonne, Chartreuse, and Oisans—all of which can be reached by foot, by cable car, or by public transport right from the city center. Year round, the nearby mountains offer visitorsand locals alike an infinite choice of athletic and relaxing activities. What's more, with over 330 hectares of parks (191 of which are designated nature zones of particular plant, animal, and ecological interest), the city also has a green heart! Read More.